I am Attracted by A Good Perfume, Nengi Says #BBNaija [Video]
I am Attracted by A Good Perfume, Nengi Says #BBNaija [Video]
Day 27: A little freaky vibe
The Housemates have gone four weeks in the House and a familiar freaky vibe seems to have taken over.
SUBSCRIBE TO WATCH
The conversation in the House has gotten a little freaky and no matter how often they change the topic, they always find themselves back at that same freaky conversation. So why fight it, let it all out.
Extra freaky
Praise sure has some of the freakiest stories for days and he tells them quite well. First, he teased Vee that the first time she and Neo ever get intimate, it was going to be fire and brimstone implying a volcanic eruption. Then he had a good time sharing some of the most explicit jokes as told by his favourite comedians. But he wasn't the only one, the Housemates had a swell time talking about self-pleasure and getting intimate in the House. Prince and Trikytee were pretty adamant that they would never have any form of intimacy in the House and would rather wait it out. There was the talk about bringing self-pleasing devices into the House and when to use them. Laycon suggested risking a fine for not going to the morning workout session and staying back to get a little pleasure in privacy wasn't such a bad idea. Lucy expressed fear about being caught with a device in the House and maybe that's why she didn't bring any.
Put you on the game
Speaking about grooming, Kiddwaya shared a few tips about what it takes to look nice and found attractive by the opposite sex. Top on the list was the use of perfumes. "Perfume is what makes women attracted to you," he said as he explained that smelling good is a big deal. Nengi approved of this as she reeled out some of her favourite perfumes.
Spoiling Brighto
The Housemates weren't done yet with the sensual convos. It continued as they prepared for the Saturday Night Party. As usual, they teased each other about how loud they'd sound in certain sensual situations with Wathoni being teased the most. Kiddwaya believed she'd be the loudest if she ever found herself in a situation of the sensual nature. Shortly after, Brighto became the target of the group when they asked him if he ate a certain delicacy. To which he responded, "how I go chow am, na food?" Sensing Brighto might be dragged into the world of explicit content, Tolanibaj spoke up and asked they do not spoil him with such content. It was all light humour, but we wonder if, underneath it all, certain regions of the Housemates were beginning to feel the pressure and talking about it was their own way of calming the turbulent wave of hormones.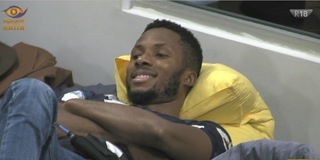 The Housemates have just a few hours left as they prepare for the Saturday Night Party. Their attires are already here and from the way they immediately ran to the Storeroom to get it, they are definitely ready to Party.
Stay tuned to Big Brother Naija on DStv channel 198 and GOtv channel 29, brought to you by headline sponsor Betway, and gold sponsor Guinness. You don't wanna miss out on any of the action so sign up on DStv or get GOtv Max or Jolli.  Stay plugged into all things #BBNaija on the website and follow us on YouTube, Instagram, Twitter, and Facebook.
RELATED CONTENT
Day 27: Dancing away the bad vibes
Day 25: 'I like your vibe sometimes,' Kiddwaya
Day 8: Nothing but pure Lockdown vibes